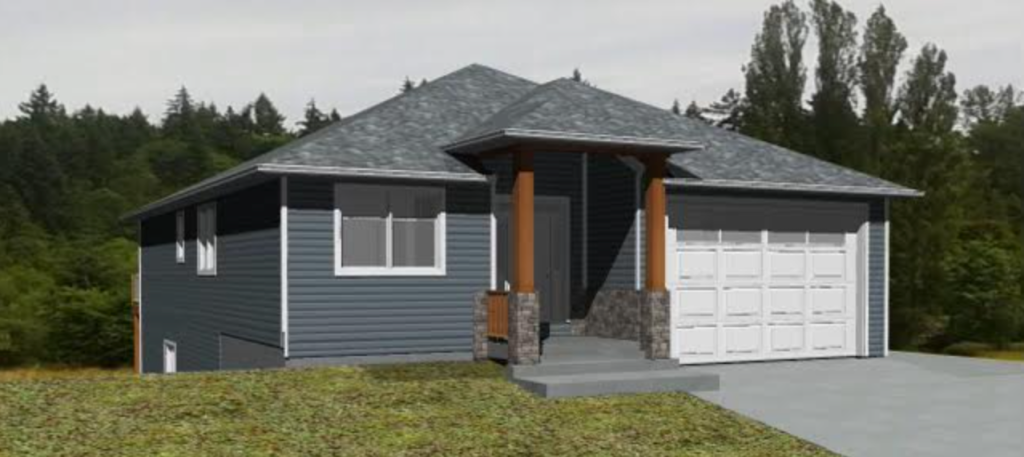 Are you looking for space and versatility in a new home? This 3,300 sq. ft. rancher-style home has both in spades. We've seen more families looking for separate and independent living areas within their homes, and have incorporated a one bedroom suite into our newest home at The Ridge. Perhaps you'll want to offer the space to a family member, or you may want to use it for guests, or generate rental income from this legal suite.
West Coast Modern Rancher Blends with the Natural Surroundings
The exterior and interior materials for this home have been carefully selected to integrate with the beautiful scenery at The Ridge in Courtenay. Natural elements such as timber framing combined with a soothing colour palette incorporate a West Coast modern style into the custom design of this home. Large windows open up the space and allow natural light to stream in, providing stunning views of the local landscape. Surrounded by farmland, the Beaufort Mountain Range and the Comox Bay, this home blends with its natural surroundings to provide a seamless flow from indoor to outdoor living.
Legal Inlaw/Secondary Suite
The one-bedroom suite is 635 sq. ft. and comes with a complete kitchen, a full bathroom and has its own covered deck and access to the backyard. This legal suite can be used for a family member or it can be rented out.
Main Living Area Includes 5 Bedrooms and 3 Baths
This home provides flexibility and privacy for family living, with 5 bedrooms and 3 baths. Some of these rooms can also be used as dedicated office and study space or as accommodation for visiting family and guests. The upper level of this home includes the primary bedroom, with a luxury 4 piece ensuite and walk-in closet. It also features a separate door leading to the expansive 29-foot deck with glass panels, providing views of the ocean and mainland mountains.
The great room has vaulted ceilings, a gas fireplace and opens up to the dining room which has a door that leads to the covered patio. Sit down at the large island and enjoy the eating bar, to have your morning coffee or enjoy a casual meal with family. One of the unique aspects of this floor plan is that it includes two walk-in pantries. One is a dedicated smaller one and the second pantry is combined with the laundry room, which makes it a great place to organize and store small kitchen appliances and cookware.
This floor also includes two additional bedrooms and one full bathroom. A large, welcoming covered entryway opens up to a spacious foyer which includes an entry closet. This home has a two-car garage, and comes with a complete landscaping package that includes an underground sprinkler system. This home will be ready for occupancy in 2022.
Energy Efficient Homes
We build new energy-efficient homes that exceed the City of Courtenay's Energy Step Code requirements. This attention to detail will provide an increased sense of comfort and well-being in your new home and will significantly reduce energy bills.
Coastal Custom Homes is ahead of the curve by incorporating leading-edge energy-saving technologies into a new home, without increasing the costs. Interested? Contact us today.
Dean Vershuur, Coastal Custom Homes
Email: Dean@coastalcustomhomes.ca
Pricing, availability and conditions are subject to change without notice.
Posted November, 2021