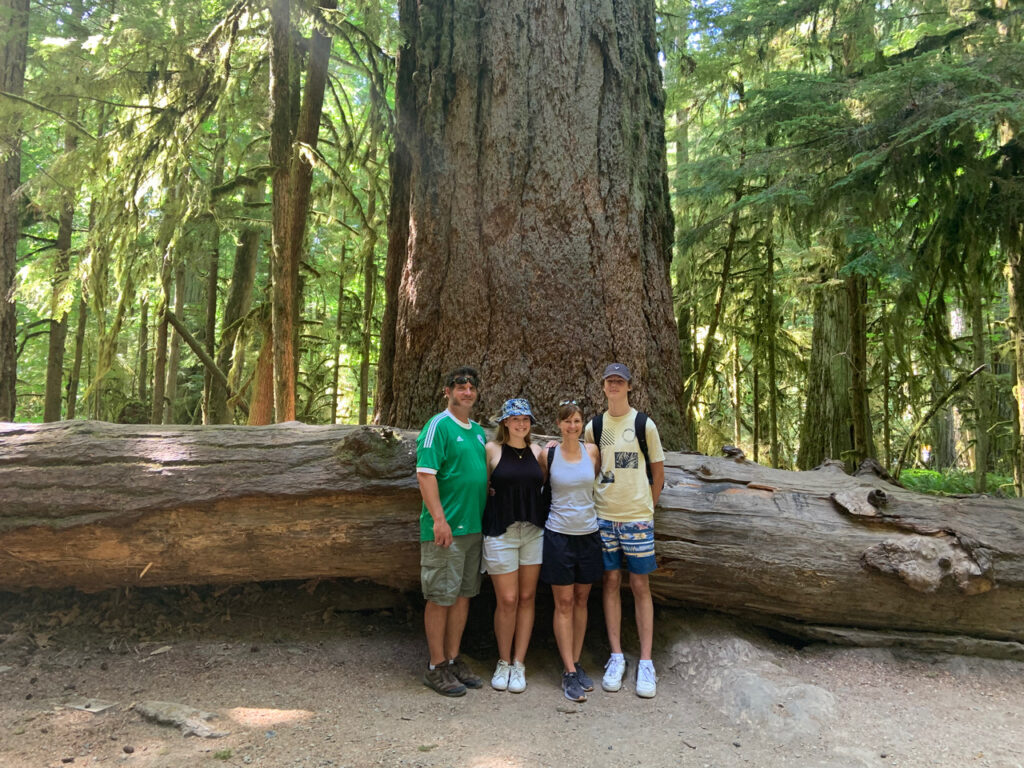 The story of how this family found themselves to be living at The Ridge in Courtenay started with a job transfer. Eric had the opportunity to work in the Comox Valley and so the search for a new home was underway.
Sandra and Eric have been married for 25 years. They lived in Edmonton, Alberta most of their lives before relocating to Courtenay with their two small rescue dogs. Their daughter Alex is 18 and is studying Kinesiology at University of Victoria. Their son Quinn is 16 and is in Grade 11 at GP Vanier High School. He plays hockey and enjoys snowboarding on Mount Washington.
This is an active family who enjoy hiking, skiing/snowboarding, soccer, hockey and mountain biking. Sandra's career revolves around health and wellness. She is an Occupational Therapist and teaches people how to move better through movement. She uses the Pilates equipment (in her home studio) to help people move better – whether it's rehabilitation, recreational fitness or athletics – she loves it all! Her husband is a letter carrier for Canada Post.
Here is their testimonial:
Why did you decide to move to The Ridge?
"On our first trip to Vancouver Island to look around, we were shown new homes for sale at The Ridge. We love the area. We love that The Ridge feels remote from 'town' but it's minutes away from all amenities. We love the lot sizes – the houses are nicely separated and are unique from each other. We have incredible views from our home and neighbourhood. I love that I can hop on my bike or hit the trails right from my front or back door!"
Why did you choose Coastal Custom Homes as your builder?
"We reached out to Dean, from Coastal Custom Homes to talk about one of the homes he had for sale as we really loved the look and style of the home.
"Deans' response was something to the effect that 'the home you build should be exactly right for your family and needs' so instead of making his current build try to fit what we wanted, he suggested that we consider his next build. We wanted a rancher with a basement/walkout to accommodate my Pilates studio. So Dean proposed the idea of his customizing the next home he was starting in Fall 2020 to be a better fit for us. We had a very positive discussion about our budget and needs. Dean provided references from his other clients which were all extremely positive reviews and now we were on our way to building a new custom home."
Customizing the floor plan
"We were moving forward. We flew back to the island in September 2020 and met with Dean to see the lot and one of his finished homes. He came with the full house plans and gave them to us to take back to Edmonton. I also have to praise Tiffany for all the help she offered in designing the house and helping us to choose finishes and products. She made the process very rewarding and always had the big picture and our needs in mind."
*Note – Tiffany Verschuur is the designer for Coastal Custom Homes
Getting Started
"We had a very positive relationship with Dean through the entire process. I think the biggest draw to Dean and Coastal Custom Homes was it just felt right. Dean was very honest, upfront and always followed through on his word with us. It was difficult to build during the pandemic but with Dean we were always able to work through any issues that came up over the build."
How have you found the experience?
"Excellent. We would recommend Coastal Custom homes to anyone and we would build another home with Dean if we moved in the future. Between Dean, the lot, the neighbourhood and the positive reviews from Dean's previous customers – we were sold! We love the lot we built on, we love the forest area and the walking path behind us. Our neighbours are all friendly, the neighbourhood is beautiful. We love the location."
Thank you to Sandra, Eric, Alex and Quinn for sharing their experience with us, and welcome to The Ridge in Courtenay, BC.
To find out more about building a home with Coastal Custom Homes, contact Dean Vershuur at Dean@coastalcustomhomes.ca